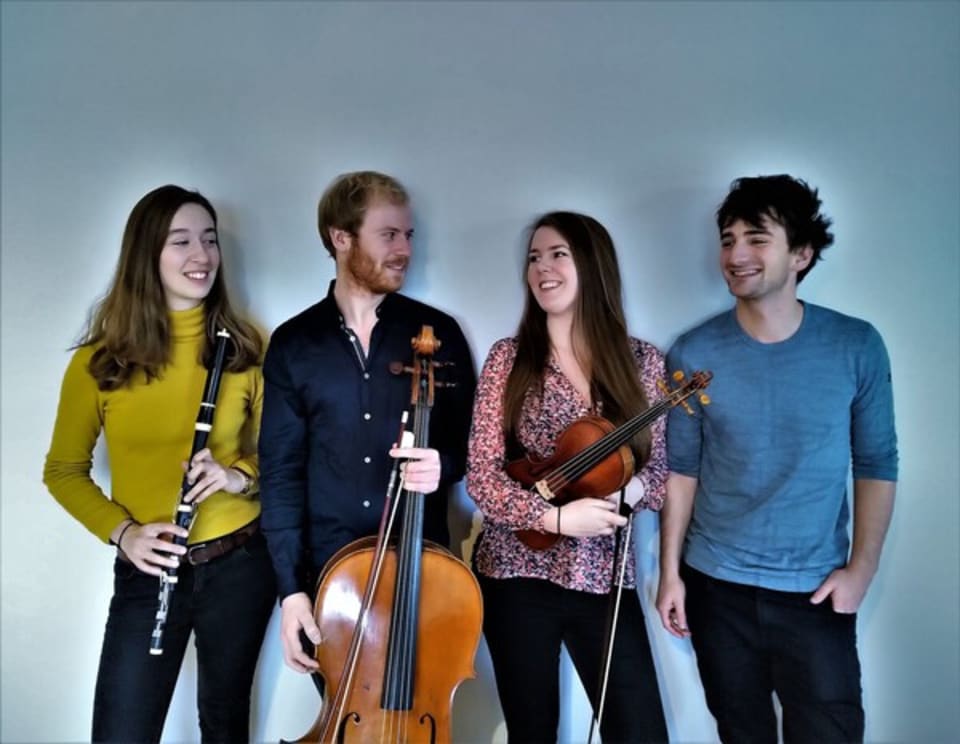 Månedens Brillante - April/Mai
Pocket Sinfonia is quartet consisting of four members hailing from Britain. They are currently dividing their time between Oslo and London and we had the honor of talking to them during the aftermath of the easter holidays.
Hi there!
The Easter holidays are over, the snow is melting and the sun is shining brighter and brighter. Are you guys happy the weather is turning warmer or do you prefer the cold Norwegian winter?\
We definitely prefer the warmer weather, ideally for about ten months a year. Then two could be snowy for a bit of variation.
You are currently dividing your time between Oslo and London. What are the biggest differences in terms of being an ensemble?\
The biggest challenge is the organisation. With all of our members freelancing in a number of different cities, we have to be quite efficient with our rehearsals, which often start just as someone gets off a plane. To cope with this we always have a long pre-rehearsal coffee!
Can you tell us more about how Pocket Sinfonia got started?\
Our pianist/fortepianist Emil, is hugely passionate about 19th century chamber music and the fortepiano, and in 2016 he came to London to do 2 degrees in these topics, with his initial degree focusing on Hummel's arrangements of orchestral works for flute, violin, cello and fortepiano. We came together to play these pieces on historical instruments and completely fell in love with the concept, so started writing our own arrangements of orchestral works, and now have a repertoire that spans 4 centuries. The process of rediscovering these works and interpreting them with the added spontaneity and flexibility of the chamber group is very inspiring and we have loved having the opportunity to use, with the creativity of 4 unique voices interacting to present well-loved works in a new light.
What is the greatest experience you have achieved as a group?\
Our Universitetets Aula debut in Oslo was an incredible experience. It came at the end of a tour with a series of disasters – a broken piano, a cellist stranded abroad because of heavy snowfall, and even a car crash on the way to a concert! The combination of the warm, enthusiastic audience and the fantastic acoustics made the hall feel very intimate, and gave us the freedom to be completely spontaneous and to share in the joy of music in an unusually tangible way. It goes without saying that it was inspiring to play surrounded by Munch's masterpieces, and in a place that was so familiar to us from having watched many amazing Norwegian Chamber Orchestra recordings on YouTube before arriving! Luckily all our disasters were out of the way so it was a very relaxing evening after all that!
What inspires you?\
It sounds corny, but we're so inspired by each other! We all relish live performances as they heighten everyone's creativity, so there are always surprises from each member which inspire us in the moment, keep us on our toes, and make our performances really fun! We completely love playing together and have all grown so much as musicians because of what we learn from each other.
Can each of you name one favourite band or artist?\
Ellie – Patricia Kopatchinskaja Emil – Pocket Sinfonia Rosie – Pocket Sinfonia Tom – My Chemical Romance
10 kjappe:
Conductor or no conductor?
No conductor
Practice or concert? Concert
Improv or notes? Notes with a bit of bad improv mixed in
Brahms or Beethoven? Beethoven
Easter holiday or summer holiday? Summer – much longer and warmer
Concert at the opera in Oslo or Royal Albert Hall in London? Opera for the acoustics, but there's nothing quite like the atmosphere in RAH during the BBC Proms
Major or minor key? Major
Coffee or tea? Coffee and lots of it!
Norwegian chocolate or English chocolate? We prefer the price of English chocolate! But we eat a LOT of Smash when we're in Norway, and always bring it back to the UK!
Doing interviews in English or in Norwegian? Either for two of us, the other two don't speak Norwegian!